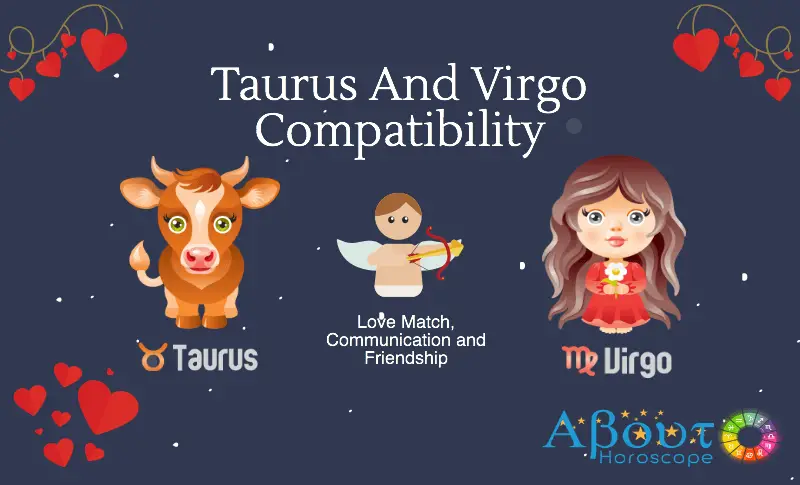 Taurus And Virgo Compatibility, Love Match and Friendship
Taurus, the second sign of the Zodiac represents growth and development.  People born between April 21 and May 21 are known to be stubborn and confrontational but willing to compromise for the sake of harmony.
Taurus has a laid-back and low-key approach in life and love.  
One who will observe, plan and wait before taking action. The bull loves to take his/her sweet time before getting into a commitment.  Those born under the earth sign are not comfortable in taking risks so they take calculated moves in order to avoid mistakes. Once they fix their sights on someone, things will take full swing after a plan is carefully laid out slowly but surely.
What you'll find in this article:
Virgo the sixth sign of the zodiac represents the necessity of a systematic approach to all areas in life.  Born between August 24 and September 22 is a feminine, Negative, Mutable, Earth sign. The symbol of the virgin suits this sign well because it depicts their calm and disciplined ways. Astrologically known as the "sign of service", Virgos are the most selfless sign.
Secretive Virgos are very particular to what they reveal and conceal.  Sometimes it is easy to predict what he/she will be up to, but there are times that he/she will be difficult to gauge.  Virgos are usually outgoing and friendly but they can shut themselves off from the world without warning.
Secretive Virgos are very particular to what they reveal and conceal.  Sometimes it is easy to predict what he/she will be up to, but there are times that he/she will be difficult to gauge.  Virgos are usually outgoing and friendly but they can shut themselves off from the world without warning.
Virgo is the least stable of the earth signs and needs variety and excitement in their lives to balance their emotional instability.  Fear of getting hurt prevents them from opening up to life and love's possibilities.  It is important for them to find partners who will be able to break their barriers.
Taurus And Virgo Compatibility
Love 90%
Friendship 90%
Communication 95%
Overall compatibility 90%
Virgos are often perfectionists.  A task is never complete if it's not done 100% right. They are so methodical to the point of being too fussy.  The devotion to duty of those born under this sign can sometimes create problems in their relationships.  More so if the people they are involved with would feel that they are spending more time at work than with them.  
Can a Taurus cure Virgo's fear of love?  Read on and find out how these two earth signs fare in the game of love.

Taurus Woman and Virgo Man
Taurus woman is the type to take her time with things and doesn't want to be rushed into making a decision.
She wants to be wooed the old fashioned way.  When smitten, she will be devoted, loyal and affectionate. On the other hand, Mr. Perfectionist is methodical in all aspects of life. Since he is enclosed by high wall of emotional barrier, it takes awhile before he truly opens up.  Virgo is not the type to rush into love; he will analyze first and then weigh pros and cons, before coming to a decision.  When committed, he is faithful, devoted and will try his best to be the perfect partner.
The only way a Virgo man can truly fall in love is for a woman to make it known to him that she is someone he can depend on. And who is the most dependable sign in the zodiac? Taurus! When hard times hit, he wants to be assured that his partner is someone he can rely on for support and encouragement. For Virgos, words are very important so he'll listen closely to what she'll say and expects the same from her.  
Taurus Man and Virgo Woman
Charming, perfect, and intelligent, this woman can seduce anyone she meets including the old fashioned Taurus. The Virgo woman is very discerning of anyone outside her circle. Highly intuitive, she can sense one's intentions right away and will know that he is not the type to fool around with her.  
Earning her trust may entail a long process but it is the key to her heart.  The bull is very patient and not the type to rush anyone into committing, even if it takes him a year or more to wait for her decision, he will!  That's just how he is when he's smitten.  
Virgo woman possess qualities that fit Taurus man's ideal.  Though she's not as old fashioned as she seems, this earth sign is the kind of lady he wants to bring to the altar. Security is very important to a Virgo and looks for a partner who can provide her with that while the Bull works really hard to secure a good future for his family.  Spend-thrifts make him see red!  
Since this lady is prone to self-pity, a partner who can lighten her mood is needed in her life.  Not only is he a charmer but a great talker as well.
Taurus And Virgo Compatibility Verdict
Taurus share a lot of common traits with Virgo and relationships based on choice; friendships, love and marriage can be quite fruitful. In love, they both stick to a grounded and methodical approach. The bull's protective and nurturing nature can help break Virgo's emotional barriers.  Taurus will help and encourage his/her partner to be more social. Even the spending and saving habits of these two jibe and both aim to have a financially secured future.  
When it comes to work, each partner understands the need to prioritize tasks at hand and will not make unnecessary demands that can rock the boat.  These signs are maybe the two of the most methodical and dedicated workers of the zodiac, but when in love, they will go to the ends of the world to be with the one they love—even putting their career on hold!  Both can manage to successfully combine work and career.
Conflicts may arise from Virgo's tendency to be overly analytical or critical about anything or anyone and Taurus' over possessiveness and stubbornness.  In any kind of match up, all will be well when two people learn to let go of their need to control or dominate each other.  Just agree to disagree sometimes because in reality no two people in the world think and feel exactly alike.